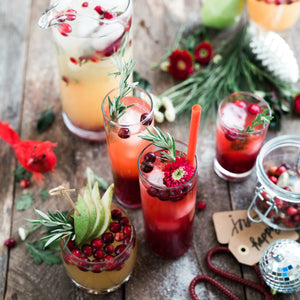 Holiday Herbal Bitters Workshop / December 3rd
Regular price
$ 42.00
$ 0.00
Sunday, December 3rd, 2-4 pm
with Liz Faermark, certified clinical herbalist
Looking for a solution to chronic digestive woes like gas, bloating, sluggish digestion, or constipation? Or maybe your want to incorporate more herbs into your daily routines. Or you just want to spice up a holiday cocktail!
Join clinical herbalist and nutritionist Liz Faermark for a workshop on herbal bitters and their benefits. Bitters are a multifaceted tool for alleviating common digestive woes. They've also long been used in beverages to harness the power of different aromatic herbs. They're a perfect companion for rich and heavy meals traditionally eaten in colder months of the year.
In this class, students will learn about the importance of bitters - why we might use them, how they work in the body, and commonly used herbs. Then, we'll spend time formulating and preparing our own custom bitter blends using aromatic herbs and flowers, fruits, spices, and spirits. Make a blend just for yourself, or create a big batch to give away as holiday gifts! All supplies will be provided. Alcohol-free options will be made available. 
Space is VERY limited, please sign up early to reserve your spot. 

Cancellation policy: Due to limited space, if you need to cancel please give as much notice as possible. We can only offer refunds on classes cancelled at least 48 hours before the event. Thanks for your understanding.
---
More from this collection