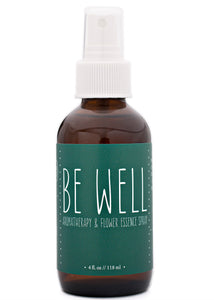 Be Well // Aromatherapy & Flower Essence Spray
Regular price
$ 17.00
$ 0.00
PREVENTION   IMMUNE SUPPORT   COLD & FLU
Invoke the power of aromatic botanicals with our Be Well Aromatherapy Spray. This blend of pure essential oils and flower essences are antibacterial and boost the immune system. Use this spray for prevention or during an acute illness to cleanse and purify your body, home, car or other spaces. Traditionally aromatic oils have been used to protect people and places against the spread of disease.
Flower essences in this blend
Star of Bethlehem Flower Essence: This essence brings comfort, soothing, healing qualities during an illness or trauma.
Olive Flower Essence: This essence revitalizes the body after physical weakness or exhaustion and connects you to your inner source of energy. 
Ingredients: Distilled Water, Wildcrafted Ravensara Essential Oil, Organic Lavender Essential Oil, Organic Spearmint Essential Oil, Organic Spruce Essential Oil, Organic Thyme linalool Essential Oil, Star of Bethlehem Flower Essence, Olive Flower Essence
How Do I use my Aromatherapy & Flower Essence Spray?
Shake well and spray often...Close your eyes and spray over your face & body, spray the room, linens or spray down the bed before nighttime.
---
More from this collection