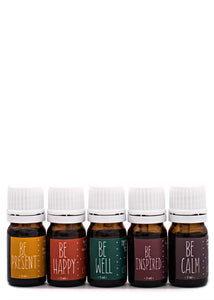 Aromatherapy Gift Set
Regular price
$ 68.00
$ 0.00
Enjoy this gorgeous gift set of 5 therapeutic Essential Oil Blends; Be Calm, Be Happy, Be Well, Be Present & Be Inspired. Each blend comes in a 5 ml bottle.
Be Calm Essential Oil Blend // This blend was created to bring peace and tranquility back into your home. Use to soothe fussy babes, calm tantrums, bring peace at bedtime and to keep parents sane during the process!  Not only does this combination of Grapefruit, Lavender, Frankincense and Chamomile soothe frazzled nerves, it also smells divine!
Ingredients: Organic Lavender Essential Oil, Organic Grapefruit Essential Oil, Wildcrafted Frankincense Essential Oil, Roman Chamomile Essential Oil
Be Well Essential Oil Blend // This blend was designed to boost the immune system, fight viral and bacterial infections, soothe spasmodic coughing and open up the lungs to allow for better breathing.  This blend can be diffused throughout the home at the first sign of an illness to help alleviate symptoms and prevent the spread of germs.  You can also use this blend in the shower, bath or dilute into a carrier oil and rub onto the chest, back & feet before bedtime.
Ingredients: Organic Juniper Essential Oil, Organic Spruce Essential Oil, Organic Lavender Essential Oil, Organic Spearmint Essential Oil,  Organic Thyme linalool Essential Oil
Be Happy Essential Oil Blend // Warning...smelling this blend of pure essential oils might cause you to feel intense feelings of happiness and bliss! Created to give you a pick me up, add a few drops to your diffuser, bath or shower to boost energy and mood.  
Ingredients: Organic Lemon Essential Oil, Organic Orange Essential Oil, Organic Geranium Essential Oil, Fir Balsam Essential Oil, Organic Basil Essential Oil
Be Inspired Pure Essential Oil Blend // Get inspired with this energizing blend of pure, organic essential oils! Created to give your brilliant ideas the focus, motivation & creativity that they need.  Diffuse in your home, car, office or studio to invigorate your mind, body & spirit.  
Ingredients: Organic Peppermint Essential Oil, Organic Rosemary Essential Oil, Organic Cinnamon Leaf Essential Oil, Organic Ginger CO2
Be Present Essential Oil Blend // This intoxicating blend of pure essential oils is designed to bring you back to center. Deep base notes of Vetiver, Sandalwood & Cedarwood are the focus, balanced beautifully with the softness of Elemi and the brightness of Bergamot. Created to help you open up, receive and connect. Use during mediation, yoga, ceremony or as a daily ritual to create more balance in your life. 
Ingredients: Organic Cedarwood Essential Oil, Elemi Essential Oil, Organic Vetiver Essential Oil, Organic Bergamot Essential Oil, Organic Australian Sandalwood Essential Oil
---
More from this collection