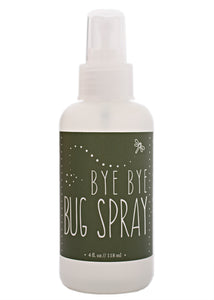 Bye Bye Bug Spray
Regular price
$ 15.00
$ 0.00
PLANT        POWERED         BUG REPELLENT
This powerhouse spray will keep you and your family relaxed and bug free this summer! Created from all-natural, pure essential oils, this spray is not only effective but smells great!
The main ingredient in this blend is Lemon Eucalyptus, from the Eucalyptus citridora tree.  It contains a constituent called para-menthane-3,8-diol, which is one of the four ingredients recommended as the most effective bug repellents by the Center for Disease Control and Prevention.
Shake well and spray often.  Be sure to avoid spraying in the eyes.
Ingredients:  Distilled Water, Organic Lemon Eucalyptus Essential Oil, Organic Lemongrass Essential Oil, Organic Lavender Essential Oil, Organic Citronella Essential Oil, Organic Cinnamon Leaf Essential Oil
This product comes in a 4 ounce recyclable plastic bottle with a convenient spray top.
---
More from this collection