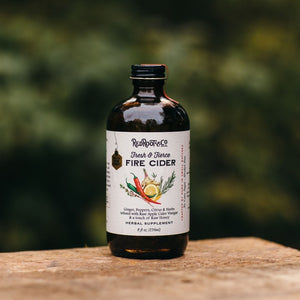 Fresh & Fierce Fire Cider
Regular price
$ 13.00
$ 0.00
Spicy roots like Ginger, Horseradish, Garlic, and Onion combined with Hot Pepper, Rosemary and Thyme boost the immune system and have dynamic antibacterial properties. With a touch of raw honey, Fire Cider delivers both the heat and the lightly sweet. This vintage wellness tonic brings a dose of deep nutrition to your day.
Ingredients: Raw Apple Cider Vinegar*, Raw Honey, Onion, Ginger Root, Horseradish Root, Lemon*, Garlic, Chili Peppers, Turmeric Root, Rosemary*, Thyme*, Hyssop*, Hot Peppers* *Denotes Organic Ingredient
Suggested use: Take 1/2oz daily for immune support. Consume as a shot or mix with small part of water or juice. May take ½ oz up to 4 times daily, if needed.
These statements have not been evaluated by the Food and Drug Administration. This product is not intended to diagnose, treat, cure, or prevent any disease.
Cautions: Consult with your healthcare provider prior to use if you are pregnant, or if you have excess stomach acid or inflammation.
---
More from this collection