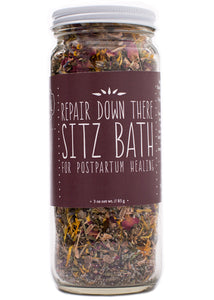 Repair Down There Sitz Bath
Regular price
$ 16.00
$ 0.00
COMFORT        CLEANSE        RESTORE
Because "down there" needs some serious love after the hard work of labor! This powerful blend of herbs is designed to cleanse, soothe and heal the sensitive tissues of the perineum after birth. It is also helpful for anyone who suffers the unfortunate side of effect of hemorrhoids from pregnancy or a strenuous labor. The ritual of a sitz bath during your postpartum time is also a great way for you to relax, recoup and give yourself some much deserved self lovin!
To prepare a sitz bath: Add a handful of loose herbs to 1 quart of just boiled water. Steep for 30 minutes, strain and add to a sitz bath (available at your local pharmacy) or bath tub. Add additional water to reach your desired temperature (temp should be nice and warm but not to hot to sit in). Sit and relax in the warm tea for 10-20 minutes.
Ingredients: Organic Witch Hazel, Organic Calendula Flower, Organic Lavender Flower, Organic Comfrey Leaf, Organic Rose Petal, Sea Salt
This product comes in a reusable 12 oz glass jar and contains 2.5 oz net wt. of loose herbs (enough for 3-4 sitz baths).  If needed, you can purchase a refill which is 2.5 oz net wt. of herbal blend sent to you in a paper bag.
---
More from this collection