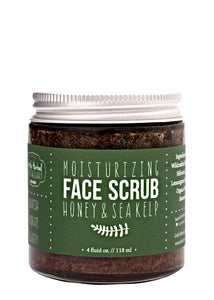 Moisturizing Face Scrub {with Honey & Holy Basil}
Regular price
$ 20.00
$ 0.00
GENTLE        EXFOLIATING        CLEANSE
Cleanse your face naturally with this luxurious scrub! Powdered Holy Basil & Hibiscus gently exfoliate while organic honey cleanses your face of dirt and impurities. This scrub leaves you feeling hydrated and silky smooth. 
Ingredients: Organic Honey, Organic Holy Basil, Organic Hibiscus, Organic Lemongrass Essential Oil, Organic Bergamot Essential Oil
This scrub comes in a 4oz glass jar.
---
More from this collection