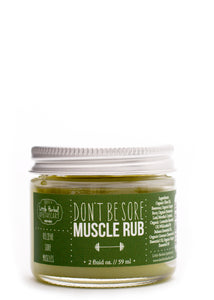 Don't Be Sore Muscle Rub
Regular price
$ 18.00
$ 0.00
RELIEVE      SORE      MUSCLES
Don't Be Sore! This salve is packed with herbs & oils to relieve sore muscles and reduce inflammation.  It is infused with whole ginger root and rosemary leaf to promote circulation & healing as well as menthol crystals to cool and relieve pain. Topped off with a pain-relieving and anti-inflammatory blend of essential oils, this salve is a true life saver.
Rub directly onto sore muscles often.  Wash hands after use and avoid contact with eyes as menthol crystals can irritate.
Ingredients: Organic Olive Oil, Beeswax, Organic Ginger Root, Organic Rosemary Leaf, Organic Menthol Crystals, Organic Lavender Essential Oil, Wildcrafted Fir Balsam Essential Oil, Organic German Chamomile Essential Oil 
This product comes in a 2 fluid ounce glass jar.
---
More from this collection