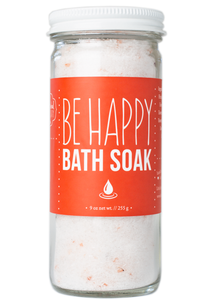 Bath Soak / Be HAPPY
Regular price
$ 16.00
$ 0.00
ON  ::  CLOUD  ::  NINE
Warning...bathing in this blend might cause you to feel intense feelings of happiness and bliss!
Created with Pink Himalayan Salt, Sea Salt, Epsom Salt and Essential Oils to harmonize the emotions. This blend is great to have on hand anytime you need a pick me up!
Ingredients: Sea Salt, Pink Himalayan Salt, Epsom Salt, Organic Lemon Essential Oil, Organic Orange Essential Oil, Organic Geranium Essential Oil, Fir Balsam Essential Oil, Organic Basil Essential Oil, Red Rose Petals
This product comes in an 8oz glass bottle and contains 9oz net wt. of bath salts. Or you can purchase a refill bag.
---
More from this collection