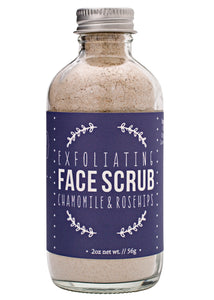 Exfoliating Face Scrub {with Chamomile & Rosehips}
Regular price
$ 16.00
$ 0.00
GENTLE        EXFOLIATING        CLEANSER
Gently cleanse and exfoliate your face with this all-natural, botanical blend made with apricot kernal meal, rosehips, chamomile flowers, kaolin clay and pure essential oils.  Great for all skin types, especially sensitive or acne prone skin. 
To use the scrub, pour approximately 1 Tbsp of cleansing grains into your hand, add warm water until you have a paste, gently scrub your face and rinse.
Ingredients: Kaolin Clay, Apricot Kernal Meal, Organic Rosehip Powder, Organic Chamomile Flowers, Organic Geranium Essential Oil, Organic Lavender Essential Oil, Organic Clary Sage Essential Oil
This scrub comes in a 4oz glass jar and weighs 2 oz net wt.
---
More from this collection