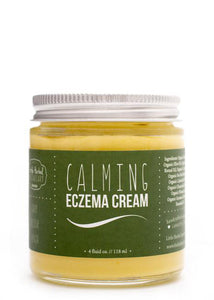 Calming Eczema Cream
Regular price
$ 22.00
$ 0.00
CALM       RELIEVE        REPAIR
This botanically inspired cream provides powerful relief from dry, itchy Eczema.  Formulated with a base of thick, rich oils including organic Shea Butter & Sea Buckthorn Oil, this cream brings deep nourishment to the skin.  Gently infused with whole calendula flowers, chamomile flowers and plantain leaves to soothe itch, reduce inflammation and repair damaged skin.  
Ingredients: Organic Raw Shea Butter, Organic Olive Oil, Organic Apricot Kernal Oil, Organic Cocoa Butter, Organic Sea Buckthorn Oil, Organic Calendula Flower, Organic Chamomile Flower, Organic Plantain Leaf, Organic German Chamomile Essential Oil 
This product is sensitive to heat due to the shea butter and will melt when it gets too hot. Shea butter begins to melt at 75 degrees so please keep your product below that temperature.
---
More from this collection