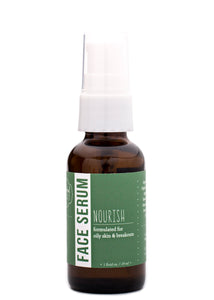 Nourish Face Serum // For oily skin & breakouts
Regular price
$ 30.00
$ 0.00
Nourish Your Face! Did you know oily skin needs oil too? Daily life often causes stripping of our face's natural oils due to over-washing, wearing makeup, yucky skincare products and harsh beauty treatments. This causes your face to make more oil to compensate for the loss! Yikes! This can lead to oily, acne-prone skin. Get back to the basics with this nourishing oil meant to give your skin exactly what it needs to feel balanced and healthy! Packed with oils to hydrate, reduce acne, redness & inflammation and restore your skin to a radiant glow.
Ingredients: Organic Jojoba Oil, Organic Apricot Kernal Oil, Organic Argan Oil, Organic Geranium Essential Oil, Organic Lavender Essential Oil, Organic Clary Sage Essential Oil, Organic German Chamomile Essential Oil
This product comes in a 1 fluid ounce amber glass bottle with a pump top.
---
More from this collection