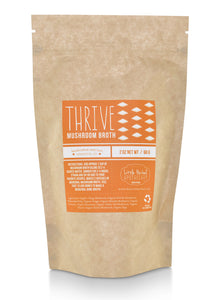 Thrive Mushroom Broth
Regular price
$ 20.00
$ 0.00
This delicious blend of mushrooms and herbs will enliven the spirit, support the immune system and provide deep nourishment for your whole body. Use as a sipping broth or add into your favorite soups, stews and other recipes. 
Ingredients: Organic Chaga Mushroom, Organic Shiitake Mushroom, Wildcrafted Kelp, Organic Ginger, Organic Maitake Mushroom, Organic Turmeric, Organic Rosemary, Organic Turkey Tail Mushroom, Organic Reishi Mushroom, Organic Thyme, Organic Sage
Brewing Instructions: Add approx 1 cup of mushroom broth blend to 2-4 quarts water. Simmer 2-4 hours. Strain the herbs out and sip on the broth or add to your favorite recipes. This bag makes 2 batches of medicinal mushroom broth. Feel free to add bones to make a medicinal bone broth! 
NET WT. 2oz (60g)
---
More from this collection